Natural History Museum
Unearth the great mysteries of life and the universe at this world-leading cathedral to natural history. With over 70 million items in its vast Gothic vaults, all life - and afterlife - is here. Particularly famous for its dinosaur skeletons. Cromwell Road.
A British Institution
This world-class collection is one of London's best-loved museums, appealing to children and adults alike. Exhibits like Dippy the Diplodocus are complemented by an immense trove of rare finds and breathtaking displays, in-depth knowledge and hands-on technology, guaranteeing a unique visit every time. Open daily from 10am to 5:50pm (last entry at 5:30pm). Free admission. There is a charge for some exhibitions.
What's on now at the Natural History Museum?
The Wider Earth: Extended Until 24th February 2019. Children attend for free.
Join 22-year-old Charles Darwin on HMS Beagle's daring voyage to the far side of the world, and discover the gripping story behind one of the most important discoveries in history.
The Wider Earth features a cast of seven, remarkable puppetry, an original score and cinematic animations to bring to life uncharted landscapes in the theatrical event of 2018.
The Wider Earth is a partnership project between Trish Wadley Productions, Dead Puppet Society, Glass Half Full Productions in association with Queensland Theatre and the Natural History Museum.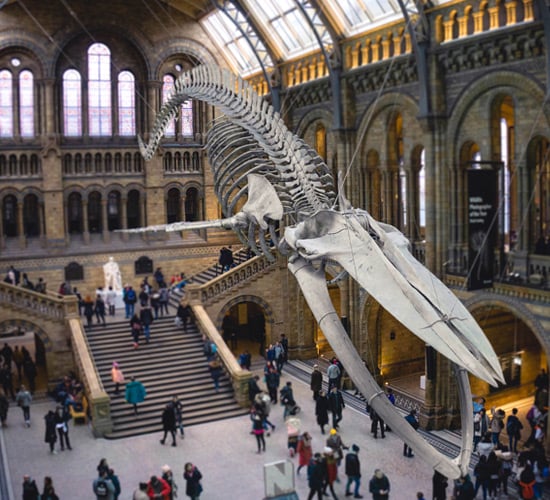 Life in the Dark: Until 24th February 2019
Leave daylight behind and put your senses to the test in this illuminating exhibition. Meet the creatures that thrive at night, in pitch-black caves and deep in the sea. Enter the worlds of nocturnal animals and discover how they find their way around their environment, hunt, mate and evade predators. Venture into the shadows of a bat cave where intriguing characters dwell in the rocky underworld. Take a deep breath and immerse yourself in the beauty of underwater bioluminescent display and get up-close to the weird and wonderful life which flourishes in the darkness.
Expeditions and Endeavours: 12 July 2018 – 1 October 2019
Explore the artworks and illustrations by scientists and artists who embarked on expeditions to document the natural world.