Natural History Museum
Unearth the great mysteries of life and the universe at this world-leading cathedral to natural history. With over 70 million items in its vast Gothic vaults, all life - and afterlife - is here. Particularly famous for its dinosaur skeletons. Cromwell Road.
A British Institution
This world-class collection is one of London's best-loved museums, appealing to children and adults alike. Exhibits like Dippy the Diplodocus are complemented by an immense trove of rare finds and breathtaking displays, in-depth knowledge and hands-on technology, guaranteeing a unique visit every time. Open daily from 10am to 5:50pm (last entry at 5:30pm). Free admission. There is a charge for some exhibitions.
What's on now at the Natural History Museum?
Palaeoart – Reconstructing the past: Until 28th April 2020
Artists and scientists depicted long-lost creatures together for the first time in the early nineteenth century – around the same time as scientists began seriously studying prehistoric life. As our knowledge and understanding has grown, artists have been able to make increasingly realistic depictions of the fascinating creatures that once existed.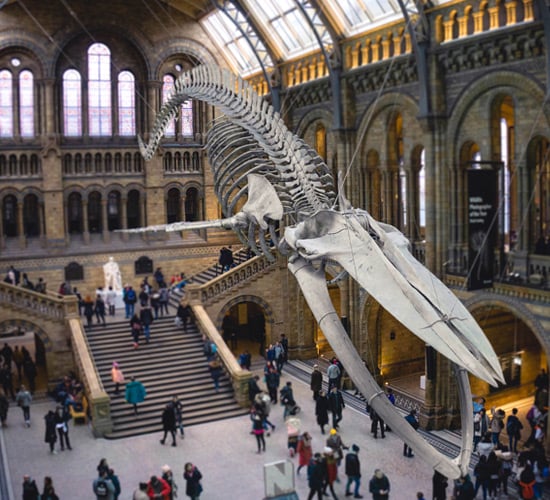 Wildlife Photographer of the Year: Until 31st May 2020
Museum The fifty-fifth Wildlife Photographer of the Year exhibition will immerse you in the breathtaking diversity of the natural world. Encounter the beauty and fragility of wildlife, see fascinating animal behaviour and get to know extraordinary species, exhibited on 100 stunning lightbox displays.