Natural History Museum
Unearth the great mysteries of life and the universe at this world-leading cathedral to natural history. With over 70 million items in its vast Gothic vaults, all life - and afterlife - is here. Particularly famous for its dinosaur skeletons. Cromwell Road.
A British Institution
This world-class collection is one of London's best-loved museums, appealing to children and adults alike. Exhibits like Dippy the Diplodocus are complemented by an immense trove of rare finds and breathtaking displays, in-depth knowledge and hands-on technology, guaranteeing a unique visit every time. Open daily from 10am to 5:50pm (last entry at 5:30pm). Free admission. There is a charge for some exhibitions.
What's on now at the Natural History Museum?
Investigate for Families: Until 1 September 2019
Get a feel for how scientists work by having a go yourself. Come and explore hundreds of real nature specimens that form the evidence museum scientists use in their work. Science educators are on hand to help you look closely at real objects using the many tools provided. Bring your own questions, or use some of ours in this hands-on science space.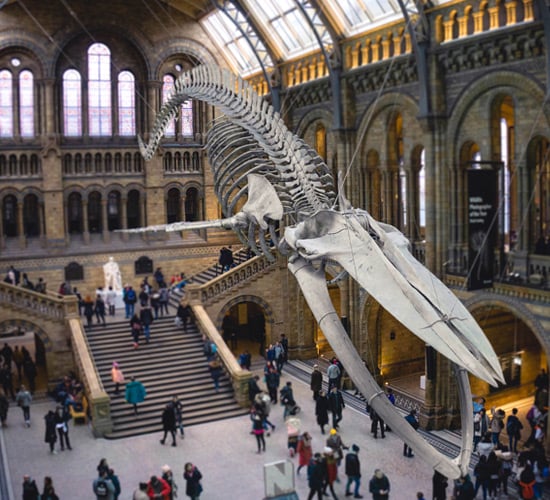 Museum of the Moon: Until 5 January 2020
Museum of the Moon is a touring artwork by UK artist Luke Jerram. Visit the free installation at the Museum until 5 January 2020.
Since 2016 the Moon has been circling the globe, lighting up spaces from Bilbao to Beijing including abbeys and swimming pools.
This six-metre model features meticulously detailed NASA imagery of the lunar surface, ambient moonlight and an evolving soundscape.
It's at the Museum in time for the fiftieth anniversary of the Apollo 11 Moon landing, accompanied by an exciting programme of events for space enthusiasts of all ages.
Expeditions and Endeavours: Until 1 October 2019
Explore the artworks and illustrations by scientists and artists who embarked on expeditions to document the natural world.